Customer Center
We realize that buying a large quantity of meat at one time is an investment, and we want to help alleviate any concerns you might have. Our customers are very important to us, so please don't hesitate to contact us. Because most days are spent in the field, messages and emails are returned in the evening and early morning. Email is preferred.
Total Costs for Whole & Half Beef
Besides the cost of the whole or half beef itself, customers will be responsible for the processing and packaging cost (depending on the type of packaging chosen: shrink wrap or vacuum wrap) for their beef which is due the butcher at the time of pickup. Also, you have a choice of delivery.
See our
Cost Chart
.
Before Purchasing Beef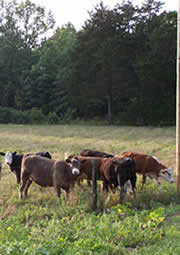 You have several options to consider: quantity of meat, packaging options, and delivery.
Quantity of Meat. We sell half and whole beefs online and other bulk meat on occasion. However, if you live in the St. Louis area, you can also purchase our meat in individula cuts at various grocers, farmers' markets, and restaurants.
Packaging Options. For whole and half beeves, we have two options to package your meat: shrink wrap or vacuum wrap. Vacuum wrap is more expensive, but it will protect your meat longer. Unlike grocery store corn-fed beef, our grass-fed meat is dry-aged and doesn't have the water solution added, which causes freezer burn. Dry aging makes the meat more tender and flavorful and keeps the meat staying fresh longer.
Delivery. You have three options: delivery to St. Louis, pickup, or shipping.
Once You Pay Your Deposit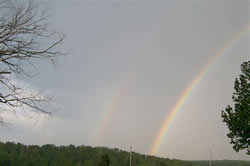 Cutting Options. Once you pay your deposit for a half or whole beef, we will contact you within a few days of receiving you order to verify your order. Then, we will contact you about a week before the butcher date to go over the cutting instructions with you. (See our Beef Cuts Guide page for the cutting options. We also have a downloadable Beef Cutting Options Form.) This way, you don't have to worry about talking directly to the butcher. We will go through each meat section and cover all the options you have and provide recommendations if you want. If you are concerned about what to do with certain cuts, we can provide information to help you. If you have questions, we will be happy to answer them. Please contact us.
If you are picking up the beef from the butcher, Swiss will call you directly when it is ready.
Be sure to check out our Cooking Tips since grass-fed beef cooks faster than corn-fed beef. Also, we've provided delicious recipes to try.
Pay Balance
If you purchased a whole or half beef, you will receive an invoice for the amount you owe once we know how much your beef weighed (hanging weight). You can pay your balance through the website.
After clicking the Pay Now button below, fill in the text box with a brief description of what you are paying for (e.g., "balance for half beef").
Fill in the item price with the amount on the invoice
Click the Update link to make the price show up in the Amount column
Pay with your credit card or PayPal account.
Enjoy your beef!